Vertical Growth
How Self-Awareness Transforms Leaders and Organisations
Michael Bunting and Carl Lemieux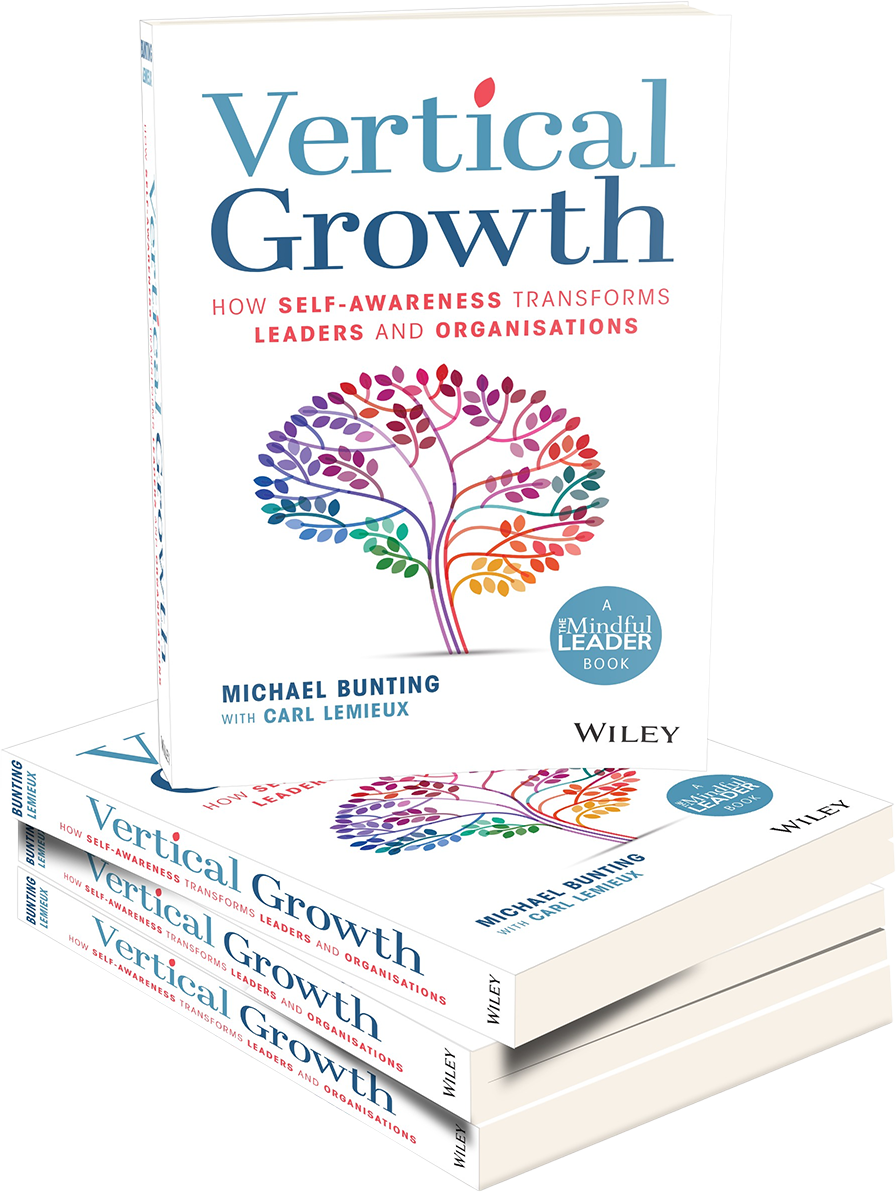 Discover the secrets to self-awareness, life-changing growth and happy, high-performing teams, in this practical
guide to modern leadership.
In Vertical Growth, world-renowned leadership development experts Michael Bunting and
Carl Lemieux reveal the deliberate practices and processes you can follow to radically improve your leadership and personal wellbeing.
By embracing 'vertical growth' – the cultivating
of self-awareness to identify limiting behaviours and consciously create new ones that are aligned with your values – you'll not only transform your leadership, but will be empowered to foster the highest levels of trust, psychological safety, motivation, and creativity within your teams and organisation.
No matter how senior you are,
after reading this book, you will not
live or lead the same way again.
Andre Viljoen, CEO
Fiji Airways
Discover how to transform your
leadership, your teams, and your life
by fostering deep self-awareness.
In this groundbreaking book on leadership development for today's workplaces, you'll learn
the practical steps to:
Identify when, where and how to develop new leadership behaviours to get better results.
Regulate your emotional responses in real-time and handle the most difficult challenges with
balance, wisdom and accountability.
Cultivate practices for self-awareness that foster lifelong internal growth and personal happiness.
Uncover and change the limiting assumptions and beliefs that keep you, your team and your
organisation locked in unproductive habits and behaviours.
Create practices and rituals that enable the highest levels of psychological safety, innovation and
growth in teams and organisations.
Michael Bunting's approach makes a profound difference. I have personally seen his work transform people for the better. This new book delivers an elegant, compelling process for real growth in leaders.
Peter Horgan, CEO,
Omnicon MediaGroup, ANZ
Your Handbook For
Mastering Vertical Growth
Vertical Growth is designed for leaders in any industry who are striving to improve both their own leadership behaviours and organisational performance, as well as achieve personal development through greater self-awareness and self-regulation.
The fact is, great leaders don't know everything – and they certainly don't get it right all the time. But the quality that sets them apart is a commitment to continual learning and vertical growth.
By harnessing self-awareness to recognise the thoughts, assumptions and behaviours that are holding you back, you'll be empowered to consciously create new behaviours that are aligned with your best intentions and aspirations.
Featuring fascinating real-life case studies, along with a wealth of practical tools and strategies, this comprehensive guide teaches you how to master vertical growth in yourself, your team and your organisation.
One of the hardest challenges we face as leaders is getting people to change. What this book reveals is that the easiest and best way to get others to change is to change ourselves. This book is for any leader ready for that life changing commitment.
Elaine Lim
Asean Talent Development Leader, EY
This book clearly shows how
self-awareness enables leaders to grow
and make an even greater impact for
and with their people. A wonderful read,
inspiring, practical and insightful.
Jerh Collins
Chief Culture Officer, Novartis
The more we align our behaviour with our growth values and cultivate deep integrity, congruency, and inner harmony, the better leaders we become. In turn, the better our organisations perform, while also making a positive difference in the world.
Vertical Growth
Download Summary